community care
Community Care
We take pride in our community. We have identified a number of worthy projects that we actively support.

You can assist us in our efforts to help others by contributing to any of all of our Community Care projects.
Below is a summary of our projects; each has different needs and welcome any support. If you would like to assist, or if you know of anyone who might be interested. Please drop us a line.
NOTE - no funds are given directly to the school or orphanage projects. Instead, we supervise construction, order, and pay for all works or materials. Ensuring that 100% of funds go directly to the projects.
Our projects are: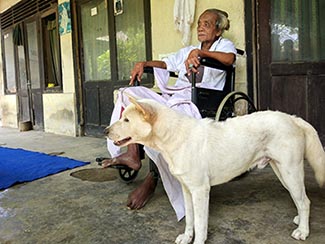 Sourcing Bali has long been a promoter of community care programs; assisting people in need with vital support. Our most current program, in conjunction with a local NGO – Komunitas Taman Hati – involves visiting the extremely poor in outlying regions of Bali and providing food, medical supplies, toiletries and financial aid.
Febuary '17 was our first trip with this organization and we distributed US$500 worth of groceries, plus clothes and supplies to four different families in need. Recipients included two disabled seniors, a 34yr old paraplegic from a traffic accident, and a 14yr old abandoned boy.
On June '17 we made our second trip, this time to Bangli in central Bali. We distributed over US$1000 worth of goods, and supplies to five different families. Recipients included three abandoned elderly people, an elderly stroke victim, and mentally ill deaf and blind man.
Even such a small gesture can go a long way to improving the lives of so many. We will continue to support this remarkable organization with their efforts to find and assist people in need. If you'd like to assist, please visit their facebook page or email me for further details.
Y.P.A.C - A specialist school, catering to the needs of the physically and mentally handicapped.
Desmond has been sponsoring Nyoman Purnawan and his family for the past 16 years. Nyoman, a twin was born with Cerebral Palsy. He was 'found' at the age of 4, living in a dugout hole with his father, twin brother and 70 year old grandmother. (now deceased)
His mother sadly passed away shortly after his birth, and his father Wayan Ganti has had to support the family (One older son Wayan) ever since. The family lived in desitute poverty, with only a sheet of asbestos roofing to protect them from the monsoon rains.
Over the years, Desmond and friends have built Wayan Ganti and his family a modest home, connected town water supply and subsidised the education for the children.
Until 2003, the local school would not take Nyoman, due to his handicap. Finally at the age of 9, he was enrolled into the specialist school in Jimbaran where he now lives 5 days a week, returning on the weekend to his father. Nyoman is now a strapping 22 yr old, and is very committed to his studies.
The school has 35 pupils, 18 of which live full time at the facility. The age range is from 5-18yrs. The School is in very bad need of teaching aids, sports equipment, writing materials, books, fridge for the kitchen, almost everything is needed.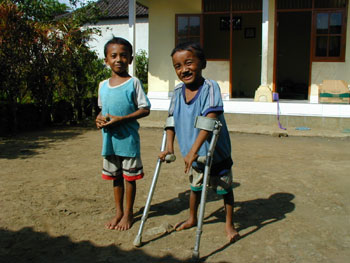 Pictured is Made (left) and Nyoman shortly after the construction of their new home - 2001. Despite efforts and payoffs, the local school would not accept Nyoman. Finally, once he was old enough to leave the village, we placed him at YPAC - where he is now the best student in the school !
Had Nyoman remained in the village, he would surely have become the village idiot. Unable to speak Indonesian, read, write, count or be mobile. The change in this little boy's life has been significant. Help us to help him and others like him.
Panti Asuhan Salam, Tabanan - (Tabanan Orphanage)
We have been supporting this Christian Orphanage since 1998 - and in the beginning, we supported them with the construction of new bathrooms, new kitchen, dining facility, office and general improvement of the facilities. The orphanage receives children from all over Indonesia, and in particular, children the far eastern islands, where poverty is most rife.
There are 46 children, ranging in age from 4-17.
Thankfully, the orphanage now has a great deal more patrons than when we first assisted them in 1998, and we now direct our assistance to other projects. We do however still receive messages / parcels from friends who wish to send used clothing to the kids.
Donations of toys, sporting equipments, rice, books, writing materials etc are all gratefully accepted.

Thanks to the many generous donations received from friends overseas, we were able to complete our plans for the new basketball court at the oprhanage this year. The court was in excess of Rp140.000.000 of which we received over half in donated funds.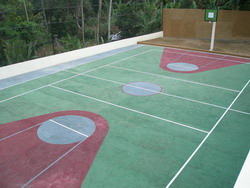 The kids were delighted with the results of the 3 months construction - and we were delighed to see the fun in their faces and the laughter in the air !

BALI STREET CHILDREN PROJECT (Yayasan Kasih Peduli Anak)

YKPA helps street children in Bali by providing a caring home, schooling, and a new life. For children still in the streets, we offer reading and math classes on the beach.
Underlying our work is AIDS and abuse prevention by helping young girls avoid prostitution, and giving teens alternatives to making their siblings
beg.
YKPA needs help to continue. There are many more children needing help, and projects aimed at prevention require funds. YKPA is a non-profit and non-denominational organization.
Sourcing Bali is making a donation to them to assist them with their expenses for these needy kids - if you would like to assist, please email them directly (Michael Pate, Director or Putu Etiartini) at etiartini@gmail.com - your much needed support will be welcomed. www.ykpa.org
PANTI SOSIAL TRESNA WERDA WANA SERAYA

New for 2014, 2015 - we support a Sanur based Old people's home. This Government facility receives some support from the Government, but we supplement their needs with pharmacy goods, new clothes, TV's, DVD's, new kitchen equipment, clothes and snacks. We visit every 2 months with US$500 worth of goods, and we spend a few minutes with each of our friends.. often a simple shoulder rub, or a hand hold is all that's needed..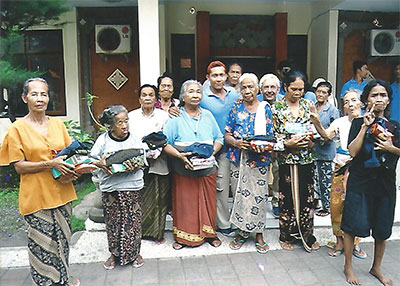 You too can help - just email me if you'd like to assist.
For details on any of our Community care programs, please email desmond@sourcing-bali.com